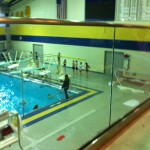 I have long boycotted Abercrombie & Fitch out of a prudish obsession with their adult portrayal of young   kids.
I think little girls and boys should look like little girls and boys—and not like Victoria's Secret models and their leering boyfriends.
With so many kids wearing "Abercrombie" I decided maybe I was being too, harsh, too puritanical. Maybe I got my boy shorts into a knot over nothing; then scandal erupted.
Abercrombie started to market a bikini for little girls, as young as 7, with a padded push-up top. Here is a link showing the original ad:
http://www.sfgate.com/cgi-bin/blogs/sfmoms/detail?entry_id=85551&tsp=1
Perhaps Abercrombie has finally shown their true colors through their black and white editorial-style advertising. They have removed the "push-up" from the items' descriptions as in this link:
http://www.abercrombiekids.com/webapp/wcs/stores/servlet/CategoryDisplay?catalogId=10851&storeId=10101&langId=-1&topCategoryId=12103&categoryId=71459&parentCategoryId=12174
For modesty reasons, girls want a lined suit; but enough padding to keep the space shuttle from burning up on reentry? Unsuitable.
Note to Abercrombie & Fitch: if a girl still plays with Barbies, she absolutely should not look like one.
What's next—American Girl Vodka?