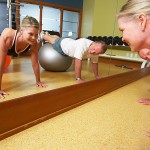 What top trainers do!
So Dolph Lundgren asked you prepay 12 weeks of personal training sessions with him. Is it a good idea? Heck yeah! But even if Dolph may be your fantasy trainer, most fitness pros you'll meet you won't know anything about. Working with a trainer is a safe way to get fit and avoid injury.  With so many choices out there, how do you choose?  Here are some qualities of good trainers:
A good listener – A trainer should ask you what your goals are, what you're doing to meet them, and how you think your training relationship will enhance these efforts.  A good trainer may nod and agree, but a great trainer will echo your words and design a program to meet those needs. If you're not being heard, your investment will be wasted: pop Jane Fonda in the VCR and work out in your leg warmers instead.
Has the right experience – Even new trainers should have some relevant experience specific to your needs. Ask how their experience with clients like you (considering your injuries, age, skill level) will help you meet your goals.  A twenty- something ex-football player may not specialize in pre-natal fitness. That's just a guess, make sure you ask. 
Puts you first – Your trainer should have your best interest at heart and suggest what's best for you, not their wallet. Some people like gadgets, some love protein shakes and vitamins. Trainers often have to supplement their incomes through product sales. Don't be seduced by purchases you don't need. If the trainer tries to "hard sell" you on a heart-rate monitor that syncs to the international space station , it's time to move on.
Is trustworthy – Make sure your trainer maintains a professional demeanor, follows-through on promises, and never divulges your personal information like your weight, or how David Haselhoff is your favorite recording artist.
Finally, ask yourself if you can spend time with this person –  Will they set a good example for you? Are you intellectually compatible? Is the trainer patient and kind? If so, you may have the start of a great working relationship!
Keep in mind a trainer can't "fix" you! Getting the best out of your relationship is up to you too.  Follow your trainer's advice, drop the milkshake, show up, work hard, and you'll be as fit as you desire. Leg warmers are optional.